"Wednesday Wednesday" at the Crescent Ballroom in downtown Phoenix features Songwriters from the Valley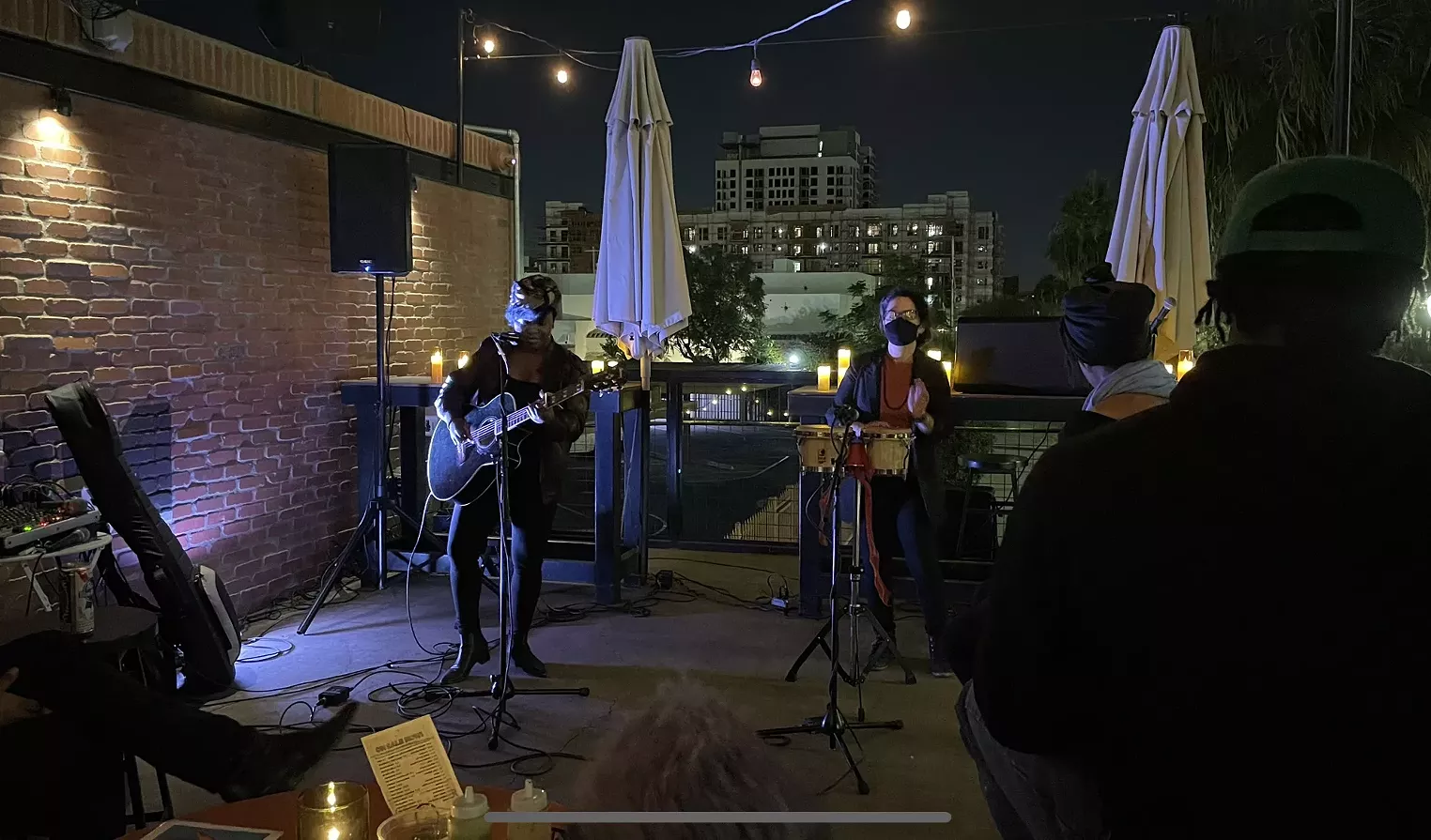 On the balcony on the second floor of Crescent Ballroom, it was difficult to find a seat on Wednesday night. Some customers were standing in the crowded back corner; others came an hour earlier to hold a table.
The balcony was occupied because of "Wednesday Wednesday," a new free weekly songwriter showcase that could be the best networking opportunity in the valley for up-and-coming local musicians.
Each week, "Wednesday Wednesday" features six to eight local musicians performing 15 minutes of stripped-down songs each. The entire series is curated, created and hosted by Jesse Teer of local indie-folk group The Senators.
The lead artist last week was soul duo Phoenix Tindal Muzic. As Tindal began strumming the opening chords of the acoustic guitar, the sound stopped and died away. Tindal turned to Teer, who also ran the sound mixer, wondering whether or not to fix the sound issues.
"Carry on," he said casually. "We will find out. "
And that was the motive for the evening: to embrace the authenticity and unpredictability of songwriting. Best of all, the artists were able to share this art seamlessly with other musicians.
"That's what's good about this space," said Raquel Denis, a singer-songwriter who performed third Wednesday in the lineup, "You think to yourself, 'Oh, I'm not alone, and there has people who do it too. '"
Teer said he first came up with the idea to start the event because of a similar showcase at the Los Angeles hotel cafe called "Monday Monday," which Teer and the Senators played a couple of times. times. "Monday Monday" was created by Joel Eckels, who gave Teer the go-ahead to pitch the idea in Phoenix. Teer immediately called Charlie Levy, the owner of Crescent Ballroom.
"Here you just see a bunch of different artists doing 15 minute sets, and it's different and fun," Levy said. "I really love that Jesse presents such a wide range of different artists and that different styles of music are played."

Granted, at first Teer wondered whether or not the Valley had enough demand to support a weekly event like Los Angeles does, but "Wednesday Wednesday" is already booked for the next month and a half.
"I think there are a lot more people out there than I thought," Teer said. "And while I'm booking this, we're trying to make it really diverse in terms of genre, voice and perspective. There are so many pockets of music and genres that I've learned.
The musical scale is one of the first things any participant will notice. Last week it all featured everything from Leewater, an R&B singer-songwriter, to Southwestern alternative country music performed by TIO, a new project by Phoenix artist David Marquez.

"I think it's really special for the people of the Valley who are music lovers and music lovers to have access to a diverse roster of artists," said Denis.
The setting was perfect for peeled performances. Fairy lights hang above and lighted candles are spread behind the performers. The audience also completely bought into the stripped down sound. When Dirt Rhodes, a country gospel singer from the Navajo Nation, took the stage, he asked the crowd to clap if they wanted "fast music" or "sadder shit".
Sad shit won the count by a fair margin.
Levy and Teer both said they plan to keep this tradition alive on the Phoenix music scene for years to come, the latter noting that the sense of community the showcase offers is everything for an artist.
"I think for most people it's like lightning when that moment happens where everyone is together in one place," Teer said. "And personally speaking, that's why we do it. This is why we play and play.
Leewater, who closed the night, brought this moment out of the fans to the balcony. Because his guitarist couldn't do it, Leewater played completely a cappella, sharing a call-and-answer hook with the crowd on his second song.
"I think those are the best moments from a showcase like this," Teer said. "I'm sad the guitarist couldn't do it, but at the end of the day, like, damn it, it was pretty magical there."