UK INDIE ROCK STAND OUT LATHUMS SET FOR US DEBUT THIS WEEK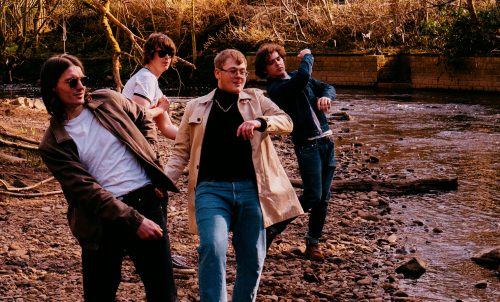 For $20 and change you can see one of the UK's finest bands when The Lathums make their US debut this weekend with shows at Milkboy in Philadelphia and elsewhere in Brooklyn. The young band from Wigan, Greater Manchester, released their debut album 'How Beautiful Life Can Be' last autumn and the title proved immediately prophetic when they debuted atop UK Albums Chart – taking over from Drake.
With comparisons to Mancunian icons The Smiths and modern stalwarts Arctic Monkeys, the British press sang their praises as the band's audiences grew from small pubs to large arenas and coveted festival slots. You can get a taste of their dynamic show below with their newly released video of Alex Moore (singer/songwriter, guitar), Scott Concepcion (guitar), Johnny Cunliffe (bass), and Ryan Durrans (drums) performing " Fight On" at Victoria Warehouse in Manchester.
We recently chatted with Durrans via email about the band's rapid rise in the UK, their first trip to the US and what Wigan is all about.
When you released your first album, what were your expectations in terms of charts and sales? How did you react when it became No. 1 in the UK?
We didn't have very high expectations in terms of sales, but that wasn't what we were focusing on. We were just happy to share our art with the world, so getting a number 1 was mind-blowing for all of us, especially considering the big names we were up against.
What is your writing process? Do you write separately? Together?
Alex is the main songwriter of the band. He normally brings the songs into the rehearsal room and we build them from there, but there are also songs that come from other members and Alex will do the lyrics, so it's a bit of a mix.
Your live broadcasts are very energetic. What did you try to do with that energy in the studio? Exploit it? Tame it a bit?
We always give 100% regardless of location, but the studio is a different environment where you can focus more on bringing your pieces to absolute perfection and performing to your best technical ability, while live you you're there to put on a show and engage with everyone there, so the energy is still there but in different ways.
Before the release, you had already had great moments, like your set at Kendal Calling and your play on Jools Holland. How would you describe these two experiences? What impact have they had on your career?
Those two things made things so much more real for us, a first festival appearance and a first TV appearance are monumental milestones for anyone's career so I think that really prepared us for what to expect professional industry. There's no wanting to see a room at the busiest festival all weekend for our first festival appearance. It is something we will never forget.
Many Americans are familiar with Manchester and the bands that grew out of it, but not Wigan in particular. How would you describe Wigan?
Wigan is our charming little old town between Manchester and Liverpool, famous for its pie pies (a pie in a bun). A real Wiganer will have such a thick accent that you'll need a Wigan dictionary to decipher what he's saying.
What kind of music scene was happening in Wigan when you started?
When we started, not much was happening. A few of our mates had bands but nothing big had come from Wigan for a while but now there's a big buzz around Wigan with a bunch of amazing bands doing amazing things.
When the band formed, what were your common influences?
There is a wide variety of musical influences within the I (Ryan) band such as heavier music like Nirvana, Led Zeppelin; Johnny likes the Ramones, the police; Scott loves the Smiths, the Beatles and Alex loves older music like Elvis and Roy Orbison, and we're all always picking up new inspirations.
Every few years rock music and guitar music are said to be dead. As a rock guitar band, do you feel like you're fighting an uphill battle?
I feel like the scene isn't as big as it used to be, but like a lot of greats have said, rock and roll will never die. As long as people keep playing and listening, that's all we need, we're here for the long haul.
Have you ever been to the USA?
None of us have been there before, so we're going all out for our first trip.
What are the band's goals for US gigs?
We want to share our music with the world and make more people happy, hope we can win new fans and have fun.
You have some great festival gigs this summer. How do you approach playing in front of massive crowds like that?
The festival season this year will be incredible for us, we have very good slots. Crowds don't really bother us anymore, the bigger the better, we all want to see those happy faces, so we're pretty confident for these shows.
Are you working on new material?
We are always working on new materials and adding to our catalog.
Photo by Ewan Ogden