Tribe of songwriters and musicians come together again for Ozone Fest | St. Tammany Community News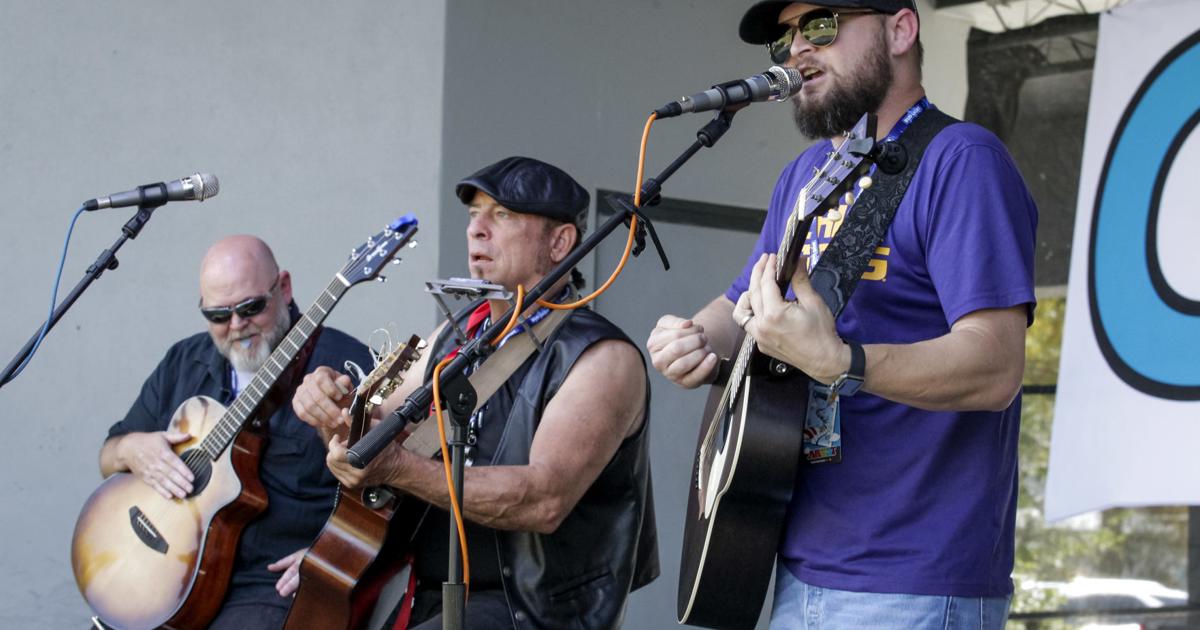 Joe Sims doesn't go a day without music.
The Pearl River native is one of the notable performers at the four-day Ozone Songwriter Festival on the North Shore which opens Nov. 3 with more than 100 songwriters-musicians performing on the Mandeville and Slidell stages.
Sims, 45, is the child of a music-loving family. His grandfather played on the old Louisiana Hayride with Hank Williams Sr.
When his father, Charles, gave Joe his first guitar, he was hooked.
"You know, music is my passion, but for my guitar it became an obsession," said Sims, who lives in Slidell. "I would be in my room for six hours, eight hours, playing it all night. I fell in love with it and everything else was put on the back burner.
After bouncing around in a few colleges, Sims graduated from Delgado and became a registered nurse. He joined a group called the Kindred Spirits and another group called the Huey Ps.
Sims remembers playing clubs on Bourbon Street after Katrina, and nights he played to packed houses, and other times it was just the music and the bartenders.
Around the age of 40, with a young girl who showed a talent for music and looking for a career change, Sims realized he had something to say musically, so he s is dedicated to writing and performing his own music.
"You know, I wrote songs in my twenties, but I never really had confidence in myself, and I can't tell you how many things I wrote on a piece of paper that I threw away and that could have been good," Sims laughs.
For him, nothing is better than when music reaches people and triggers an emotion. It's the thrill for him.
"There's only one C (note) and it's been played a million times, but people can play it a certain way and with a certain chord and make it new," Sims said. "That's what happens with music. If it makes me feel something, I like it.
Sims started attending songwriter festivals, including Ozone, and found a tribe of like-minded people who didn't care so much if the music was popular — as long as it was good.
"It's amazing how people connect over music," Sims said. "It's one of the most amazing things in the world."
Sims has his own workroom/music studio in his home. He never misses a day without his guitar, but he laughs saying he doesn't want to say how many he owns.
Sims won the OzoneFest competition in 2020, which earned him a recording session with famed Nashville songwriter Greg Barnhill.
Barnhill, born in New Orleans, has written for Tim McGraw, Martina McBride and Lee Ann Womack. His most famous song is probably the haunting "Walkaway Joe" recorded by Trisha Yearwood.
"Having the chance to work with Greg will always be special to me," Sims said. "Even though this song never comes out of my own personal studio, I had the chance to see his process and talent up close."
Barnhill created the concept for OzoneFest and will be part of the opening event on Thursday evening at the Wine Garden in Olde Towne Slidell.
Barnhill will host a 5:15 p.m. discussion with fellow songwriters about the art of songwriting and the inspiration behind some of their music.
The festival kicks into high gear on Friday at Old Rail Brewing Company on Girod Street in Mandeville with headliner Jim Peterik, who has more than a dozen No. 1 hits under his belt. The following day, the songwriters will perform on four different stages.
The event is free, but donations are encouraged; proceeds will go to the Ozone Music Gifting program.
For a full schedule of events, see www.ozonemusic.org.