Third installment of East Nashville songwriters in the round | Music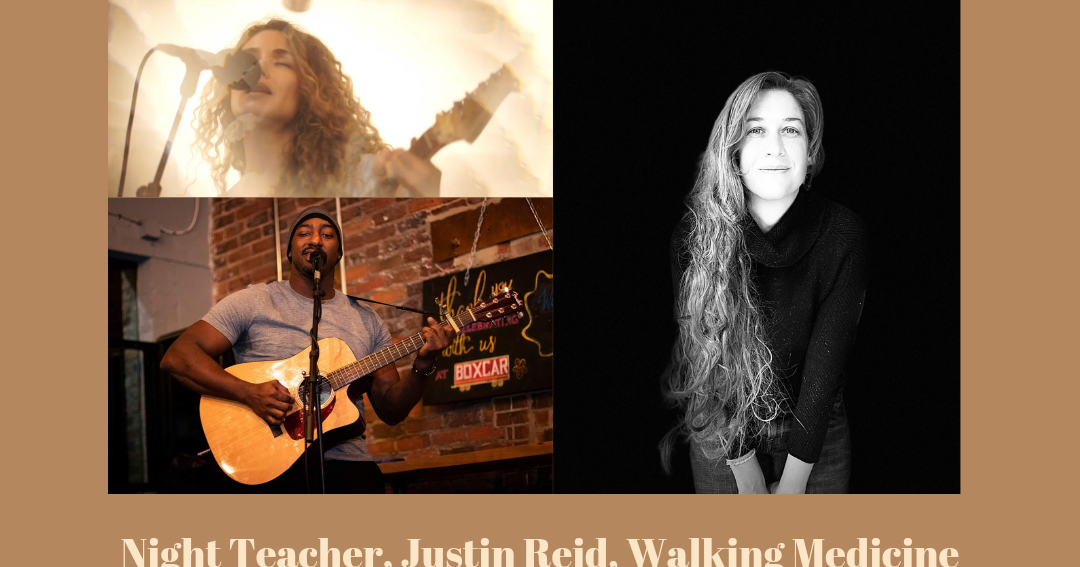 Sunday July 17, 6-8 p.m.
green bean on elm tree
Itinerant medicine, Justin Reid, night teacher
$5 gate fee
On Sunday, July 17, from 6-8 p.m., three local songwriters will share their songs and the stories behind them in an intimate writers-in-the-round setting at Green Bean on Elm.
Charlottesville's Night Teacher will join Reidsville's Walking Medicine and Greensboro's Justin Reid in the third installment of the East of Nashville Songwriters series, which has so far featured artists such as David Childers, Momma Molasses, Emanuel Wynter and Matty Sheets.
All three July acts come from artistic families – Jenny Kimmel of Walking Medicine grew up going to Galax with her family, and her sister Ivy Sheppard (of the South Carolina Broadcasters) contributed to her recently released debut album; Justin Reid grew up making music in church and occasionally tours with his sister Nikki Morgan; Night Teacher's Lilly Bechtel grew up in theater and musicals, thanks to her artist mother. But over the past two years, each has forged their own path, with debut albums released or in production, influenced by the parallel paths they've blazed in other parts of their lives.
Walking Medicine (Reidsville)
www.walking-medicine.com
For Jenny Kimmel, peace in the middle represents her first step in what she considers to be a major career change: making herself known in the world of the arts. Living on the family farm in Rockingham County, she worked there and also taught permaculture classes around the Triad "for the past 8 or 9 years, plus a few years teaching kids" at local Montessori schools. The album took a long time, though – "When I was in high school, Ivy was into banjo and guitar and handed me a classical guitar and said, 'Here, play this.' I never intended to make it a public part of my life, but I always took the craft seriously.Over the years, as she spent time thinking, reading and write poetry, Hout Hakken was released by Unicorn Press – she realized the connection between these arts and the album began to take shape.
"It was all such a beautiful process, with tons of reciprocity as people improvised on what I gave them." Produced by Sam Fribush, the album includes contributions from Ivy and David Sheppard, Waverley Leonard and Mason Via. Lyrically, it is an exploration of "how we move in the world in terms of morality and ethics and bringing poetry to it". Jenny points out: "I am currently reading Wendell Berry's books. Destabilization of America. A lot of the things we talk about in society today have to do with our connection to the land, and one of my big questions is how do we connect all people to the land in a meaningful and respectful way? »
Justin Reid (Greensboro)
Justin Reid is currently producing his debut album with Black Rabbit Audio, with a GoFundMe for community support. His musical experience has always been communal. "I grew up in the church, attended church services all my life. My dad's side of the family is all musical – we all sing, my uncle and cousin are amazing pianists. Music has always been part of our family. Greensboro's open mic scene, particularly at Greensboro Grooves in the old PB & Java, has helped him branch out: "I love how this low pressure music scene can give someone the boost to take the next step." He currently plays on the area's brewery circuit, but also played with his sister Nikki Morgan until Chicago's June 19 celebration. at the Golden Dagger.
His music draws on a range of influences: John Legend's Get lifted was a turning point for him as he realized that music could span the full spectrum of human experience, and he also lists Stevie Wonder's versatility as an inspiration. "Jason Mraz and Jason Reaves are the ones who got me into studying songwriting." He considers his music to be pop with acoustic undertones, but he foresees that the recording process will also open up other possibilities. "My sister does country, and I can't say some of that won't go in there. But I lean towards the crowd-pleasing pop sound when I play and capture that too. Pop has all different hats, but I want it to be digestible and enjoyable for as many people as possible. »
He sees the performance side of music as an ever-evolving process. "One of my songs, 'Apologize', was a dark, sad song about experiences I've had and my brother's had – a kind of 'sorry I was like I was'. But it evolved into a conscious energy of "Now I know why this happened" as I digested the story behind the song.
Reid hopes the album project will be released next year: "One of the reasons this GoFundMe is so community driven for me; I wouldn't be where I am without the Greensboro music scene – it gives you the opportunity to grow and experience a scene where you're surrounded by friends that quickly become family. Greensboro, and North Carolina more broadly, gave me my groove.
Night Teacher (Charlottesville)
nightteachermusic.com
For Night Teacher's Lilly Bechtel, this will be her first solo performance in over a year. She looks forward to this exploration, and it reminds her of her childhood. "I grew up singing in the house at 2 or 3 years old and I always preferred this mode of communication. I guess I was cursed from the start. From an artist mother, she grew up in theater and comedy "Until my teens: I didn't want to be watched playing and dove deep into writing." It wasn't until her early twenties that she started performing again live, first with Ladyship in Brooklyn, then on the open mic stage in Barcelona while she lived there for a year.
"In all these things that are happening in the world, I have turned to writing. I have shelves and shelves of newspapers. Bechtel was also a freelance journalist and has a master's degree in poetry from Warren Wilson College – she graduated via Zoom in 2020, published 'The Shape of Grief' in Poetry, and has another poem coming out in Barrow Street Journal this autumn. She's more comfortable calling herself a writer than a musician, but her collaboration with Matt Wyatt has helped fill out the words and also given them a deeper workspace.
"Our project is really hybrid, with influences from Sylvan Esso and Fiona Apple's latest album. Both are artists with lots of funk, depth, weight, ethereal beauty and femininity. The angelic singer's sense with the instruments and electronic effects giving her some grounding of depth and darkness. The album they are currently working on further explores these interactions: "Matt will provide a little drum line before I get into the words, and it's really a back and forth. I didn't think so much about writing my songs at first, and I want to challenge myself more in how the words and ideas work in a song – there will be poetry and prose poems carried in the music. But there will also be a dark humor and a sass which is part of me, but which hasn't always come out of my music.
In her writing, she covers everything from relationships to current events and themes of racial and environmental justice and feminism. "There's a theme in a lot of my love songs on the rocks about being dishonest or being bound by someone's expectations of you and accepting it, and the mockery that that can make your own sense of yourself."
"August 12egives a journalistic eyewitness perspective on the events in Charlottesville in 2017. "I sat on the porch and wrote it down as it unfolded. Her lyrics also speak to the overlap of environmental issues and feminism – "I think 'Endangered Dream' merges those most obviously, the ways in which we covet and want to own and control what we find beautiful."
About the series
Hosted by Colin Cutler and sponsored by YES! Weekly, the series will move to the Crown at the Carolina Theater starting in August. The goal of the East of Nashville series is to shed light on the region's diverse voices and musical origins, while exploring common threads of storytelling and musical exploration.
21st of Augustst: Laura Jane Vincent, Aaron Pants, Maia Kamil
September 25e: Catherine the Great, Sam Foster, Timothy Eugenius
October 23rd: Nikki Morgan, Bobbie Needham and to be determined