The Blinders announce Electric Kool-Aid EP pt 1 – out January 14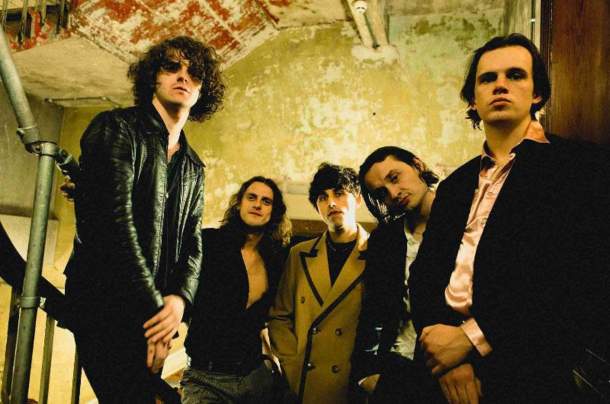 Manchester's indie rock rebels Blinkers follow the release of their brand new single 'City We Call Love', with updates on their upcoming EP, titled Electric Kool-Aid (part 1). A collection of five dark shine tracks, it will be released on January 14, before The Blinders hit the road with The Cribs for a full UK tour in March.
"City We Call Love" sees the Blinders return to great shape. An endlessly shape-shifting entity traveling through a vast landscape filled with abrasive guitars, pulsating basslines, brilliant synthesizers, and dynamic, cheeky vocals, it's accompanied by a gloriously passionate video that sees the five Newly enlarged musicians explore their expanded range of instruments competently without effort.
Speaking of the new EP, singer and guitarist Thomas Haywood says, "The EP's track came from one of the many jam sessions that took our time during the lockdown, the long track being" John Hall's Electric Kool- Aid Acid Militia "… but it doesn't quite have the same ring, does it?
"Almost all of the songs were from some form of jam state. We would record everything in the rehearsal room and I would go home and listen again, pick the best parts and write some lyrics. I would take it back to the band and we would play it to death … constantly cut and layered as we go along. Nothing is accidental this time around. Everything is done on purpose. The songs were designed meticulously.
"We are now down to five pieces instead of three. This takes into account our previous limitations and is probably the best decision we have made. It's also the best thing we've written. "
The Electric Kool-Aid EP – Part 1: Track Listing
Electric Kool-Aid
Bare feet on the water
City we call love
The writer
I hate to see you tortured
The Blinders recently completed a series of flagship shows across the UK, using the shows as an opportunity to kick off their new programming. Haywood and bassist Charlie McGough are now joined by second guitarist Eoghan Clifford, drummer Thomas Castrey and Johnny James on keyboards, with the new additions adding a deeper and more uncompromising layer to their sound.
The Blinders have just been announced as special guests on The Cribs' upcoming UK tour. The dates are as follows:
MARCH 2022
1st Tuesday: O2 Institute of Birmingham
Wednesday 2: Norwich Waterfront
Friday 4: Sheffield Academy
Sunday 6: Manchester Academy
Tuesday 8: Newcastle Boiler Shop
Wednesday 9: Glasgow SWG3
Fri 11: London Roundhouse
Sat 12: Brighton Chalk
Sunday 13: Bristol Marble Factory
Tickets are available now here