Tennessee Songwriters Week Qualifying Round at the Oldham Theater Monday | Local News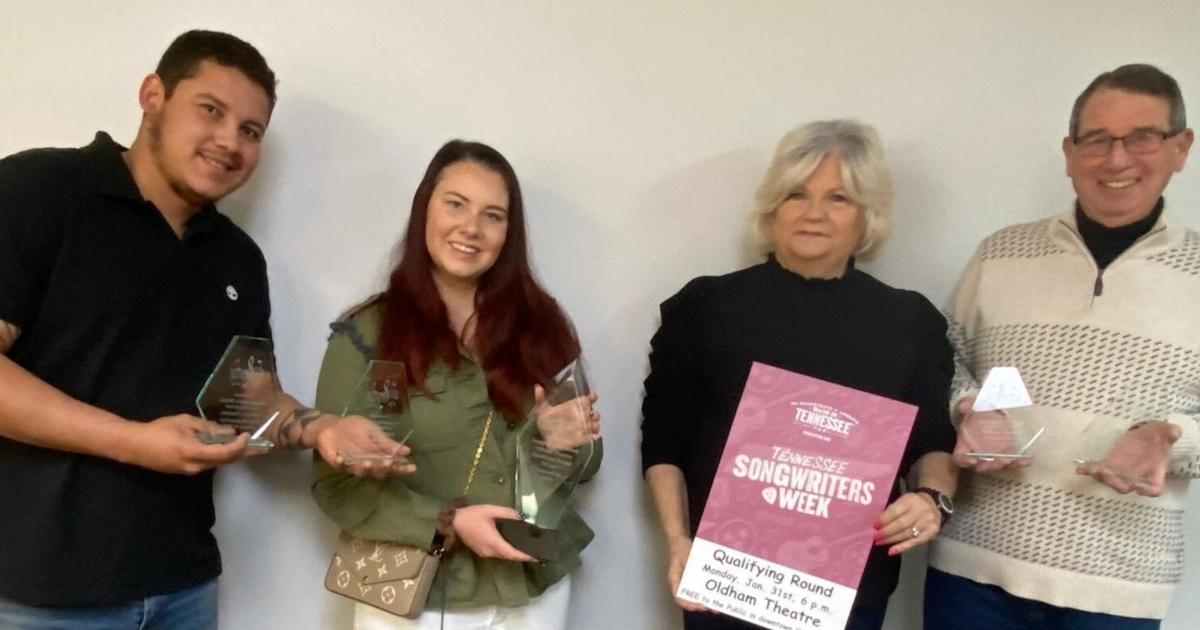 The City of Winchester, in partnership with Oldham Theater and Downtown Winchester Development, invites the public to support area songwriters in the upcoming Tennessee Songwriters Week qualifying round.
Winchester's qualifying round is Monday at 6 p.m. at the Oldham Theater in downtown Winchester. There are a limited number of entry slots left. Completed entries will be accepted upon submission of an entry. There will be no exceptions.
The winners enter the regional competition
The winners of the qualifying rounds will move on to the regional showcase competition to be held at Puckett's Café in the town of Franklin. The winner of this competition will move on to the state competition at the Bluebird Café to be held on March 20.
Songwriters competing for a coveted spot to advance will perform original music in front of a panel of selected judges who are music industry professionals with extensive songwriting experience. Sound equipment will be provided.
Participants who play a musical instrument must provide their own instrument. The public is encouraged to attend and cheer on their favorite songwriter.
The event is free and concessions will be available.
Winchester selected for live event
Event coordinator Yvonne Stewart said Winchester was chosen in 2020 as the qualifying round, but with increasing COVID numbers in Tennessee, the competition format had to change to a virtual event.
"With no positive economic impact for downtown Winchester or Franklin County, we have elected not to enter the virtual competition," Stewart said.
In the fall of 2021, Winchester applied to the Tennessee Department of Tourism Development and was chosen to once again be a qualifying round for a live event.
"We are pleased to partner with Winchester Downtown, the Oldham Theater and the State to bring a premiere event free to the public and wholesome, enjoyable entertainment for the whole family," said Stewart. "I encourage everyone to attend and cheer on their favorite songwriter.
As of last week, 22 registered songwriters had signed up to compete and there are still several places available in the competition.
Beth Rhoton, owner of the Oldham Theatre, was happy to provide the venue for the songwriter qualifying round.
"Partnerships between private businesses and public entities are essential to the economic growth of a local community, and we are happy to be a community partner," Rhoton said. "I encourage everyone to attend this event on Monday. It promises to be a great start to the week.
Michael Lee, record producer at Rare Records in downtown Winchester, will serve as the judging coordinator. He will judge with Kathy Walker and Laura Lacy. Additional judges will be announced.
Kathy Walker's musical career began in Los Angeles as the lead singer of several club bands traveling throughout California, Oregon and Arizona. As a professional background singer, she has recorded and performed live with artists Michael McDonald, Brenda Russell, Rita Coolidge, Nicolette Larson, Amy Holland, Randy Goodrum, Patrick Simmons (The Doobie Brothers), David Pack (Ambrosia), Sam Moore (Sam & Dave), Bobby Vinton, Petula Clark, Tommy Sims, Kenny Loggins, Jackie DeShannon and Christopher Cross as well as actresses Mary Kaye Place and Vicky Lawrence.
As a recording artist, Kathy recorded singles on Warner Bros/Full Moon Records and reached the Billboard Top 100 with two singles on a Nashville label, Compleat Records. Walker was a developing artist with his friend and producer Chet Akins.
As a freelance song plugger, Walker's client list included artist/songwriters Michael McDonald, Christopher Cross, Paul Williams, Randy Goodrum, Patrick Simmons, Eric Kaz, Jim Weatherly, John Durrill, Alan O'Day, James House and Richie McDonald, as well as a host of other successful Nashville writers.
In addition to her freelance career, Kathy has served as Creative Director at Music Row publishing companies Music Genesis, New Kastle Publishing and Friday Records Music. She and her husband, Grady (songwriter and sound engineer) reside in Franklin, enjoying their home on five acres.
Laura Lacy is a multi-talented woman. She has years of experience in all facets of the entertainment industry.
She is originally from Alexandria, Virginia, where she grew up and worked for actors Dan Aykroyd and John Belushi on their tour as The Blues Brothers, then later with Dan and Jim Belushi on acting projects and of music.
Lacy moved to Nashville, where she began working for Tanya Tucker as a personal assistant and as a production assistant on Tanya's album projects and TV shows.
She worked with music publishers in Nashville, Louisiana and New York as a liaison for Tanya and other artists. In Nashville, Lacy worked at Friday Records Publishing during the company's early start-up years. She was known for her keen "eye and ear" for spotting new talent.
Lacy works with Dolly Parton on various Dolly's "special projects". She travels a lot between Tennessee, Florida and New York.
Tennessee Songwriters Week supports music venues, raises awareness of songwriters' contributions to Tennessee, paves the way for future artists, and inspires travelers to learn about the musical stories, history, attractions and locations of the state.
Tennessee Tourism, The Bluebird Café and National Songwriters Association International are committed to ensuring that songwriters can share their original work on stage with other songwriters.