Q&A: How indie rock band Pillow Fite are changing the Halifax scene | Music | Halifax, Nova Scotia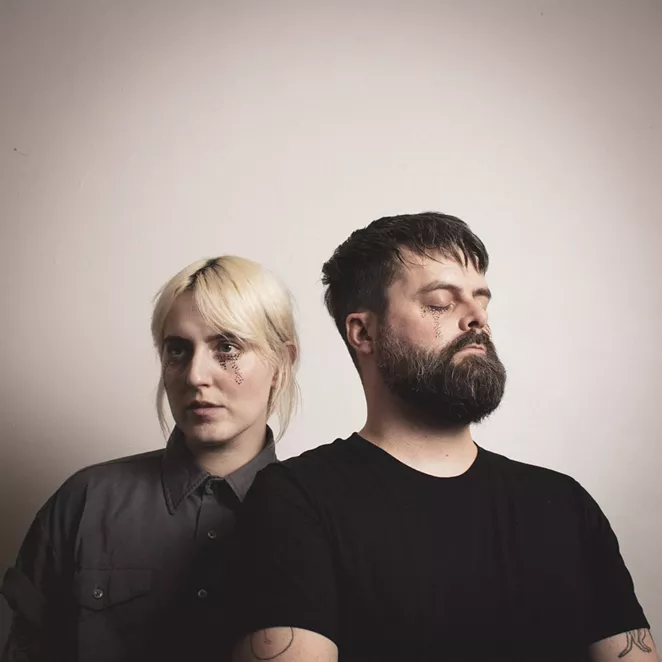 JPillow Fite's history is undeniably shaped by the pandemic: lyrics formed by text during lockdown, early group practices conducted inside the two-household bubble. But don't let the band's origin story (or their attitude on the pulse) let you mistake the duo for a COVID-era relic. Instead, Art Ross and Aaron Green are onto something much bigger, as enduring as the poppy earworms they've been honing since releasing their debut single in 2021: "Above all, we're a queer group. There's nothing in our band that's really that binary. I think we play with different genders, we play with different looks and different gender representations," Ross explains.
While Halifax music insiders likely recognize Green among bands like Floodland and Hello Delaware, his combination of strengths with Ross is the perfect chemistry of insider and outsider, helping the duo realize their plans to center homosexuality in the city's ultra-right cis rock scene—all the while thinking of Tegan, Sara and Phoebe Bridgers.
Here, ahead of Pillow Fite's performance at the Halifax Urban Folk Festival on August 31 (opening The Hidden Cameras at the Carleton) and following the band's debut album, Beatreleased this summer, we talk to Ross and Green about sonic inspiration and creating a stage for everyone:
The Coast: Your origin story is really interesting, with your press materials mentioning that you started writing lyrics together by text by accident. I would like to know the whole story behind it.
Ross: We should go back to the personality types of Aaron and me, because that's really the magic of it all: So I'm kind of very creative, what did Mike call me?
Green: Emotional. [both laugh]
Ross: An emotional tornado! Where I'm a bit dramatic and have my heart on my sleeve. And I had like some lyrics from when I was growing up in England and I did some songwriting, and then I met Aaron, and he was very—how would you describe yourself, Aaron?
Green: Logical, analytical, even.
Ross: A Virgin! And so I kind of sent him like loads and loads and loads of these wild and very different types of lyrics, where I obviously didn't have the structure of the song, but I had all the emotions that s would fit well in a song. And Aaron, with his beautiful logical brain, kind of helped me put the poetry into real formation that was digestible for others and made sense.
Green: We had only known each other for about six months and I knew they played guitar. So they came in February 2020, just before everything stopped. So everything was quarantined, and even though we couldn't see anyone, I figured all the tours were canceled in perpetuity, so I better learn to produce. So for the first little part, it was literally just Art sending in a video of them playing a song they had played on acoustic guitar and I was going to turn it into a pop thing. Then we would email, text or MP3 back and forth, then wait until you could see other people, until bubbles could occur. I'd say 'Oh great, we're going to have some bubbles, so you can come on vocals to this song I'm demoing.' [laughs].

It feels like we have a real kind of "best of both worlds": one of you is a seasoned veteran who has been in all these different groups. And then the other one of you is new to music. I wonder: what are the benefits of having a bit of each and what do you think you both bring to the table?
Ross: I'm so glad you asked. This is my favorite question to answer. It's so cliché, but I feel like I taught Aaron how to feel. really. Because when I first met him, he was very structured musically. And he was like 'wait, you can't do this. You can't have a five-minute song with one lyric all the time. And I say to myself 'why not?'
But Aaron really helped structure us. And he's also a veteran of the music industry in Halifax. He has an incredible reputation. Aaron already has an established presence in Halifax that I was really lucky to be added to.
Something I saw in your cover is how Pillow Fite aims to be a disruptor of the white, cis, straight, male dominated indie rock scene in Halifax – but in a way I find also that your sound still has aspects of Halifax DNA. How do you balance that?
Ross: Aaron, you start and then I'll criticize what you say. [laughs]
Green: A lot of it comes from me, I guess, in the guitarist realm: the stuff I listened to growing up – although I've noticed a lot has changed in the way I hear Wilco and Courtney Barnett and Japanese Breakfast currently.
"Rock doesn't have to be gendered or straight or anything like that."

Tweet that
It's great that everyone can release more music and the scene is diversifying, but we still have a history of a male-dominated industry. So get out of that, and I feel like it's more of a reclamation of rock music by people who aren't the traditional image of a rock star: comparing women to cars and you know, hair metal, all that garbage. For example, rock doesn't have to be gendered or straight or anything like that. That's kind of where it comes from.
We don't start with a genre or an end goal. We just want to see where things are going. So I think it's just all the influences that went into it. Because it's all built around this queer story that we try to tell in every song – and we act like we're using the tools at our disposal that work.
There is still not enough representation of queer people or people of color leading these groups. Like, things are getting better, but when you look at the bills that are happening, it's still not always thought through.
Ross: And to add to that, sometimes I feel like I'm not taken seriously unless I'm with Aaron. I definitely feel as a queer, cross-border band, there's an intense amount of misogyny and fetishization all over the place.
This interview has been edited for length and clarity. Pillow Fite will perform at the Halifax Urban Folk Fest on August 31 with The Hidden Cameras.