Music in the Shadows: Derry's group Dirty Faces has their say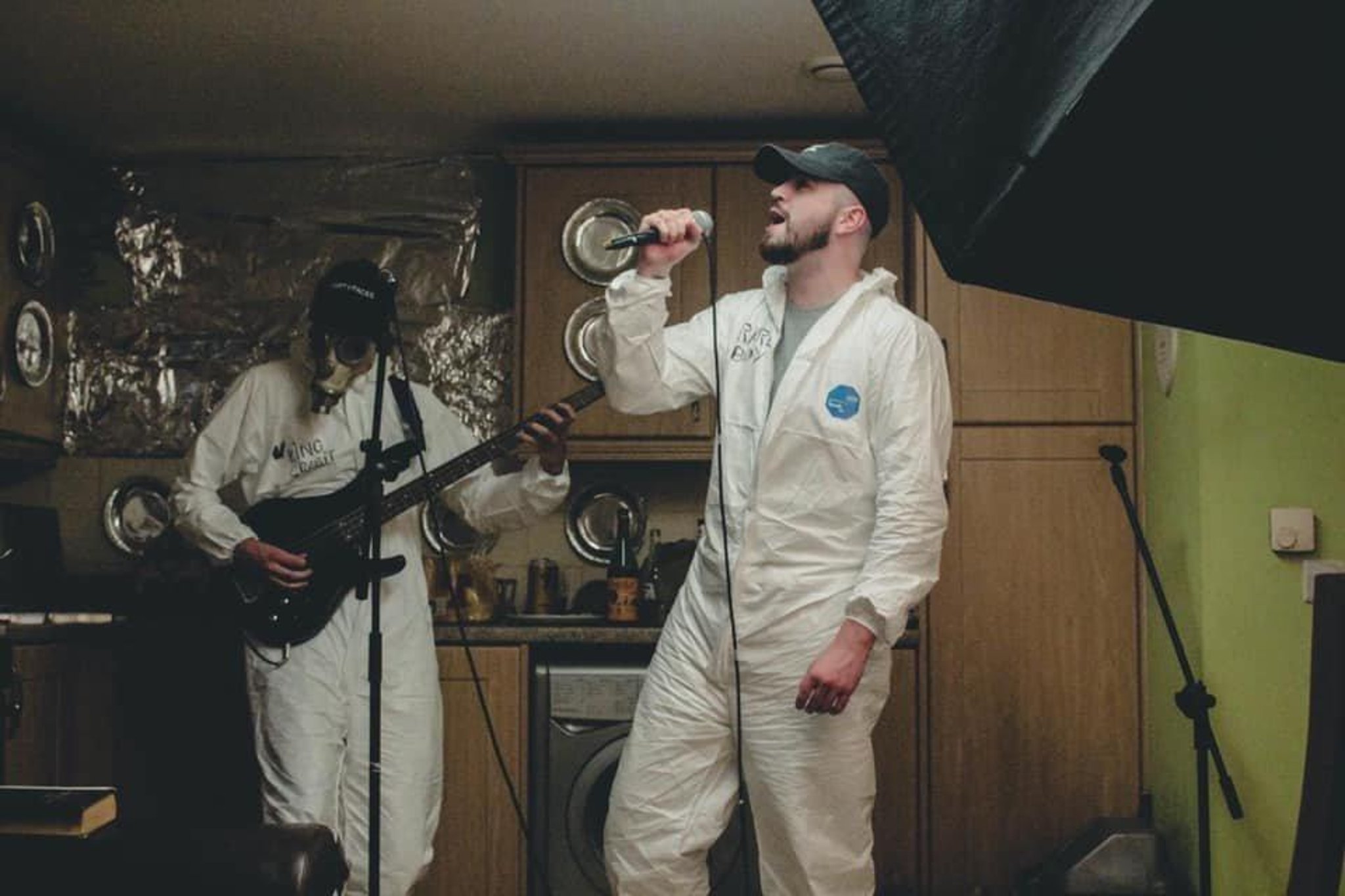 Derry band Dirty Faces (Photo by Gerry Craig)
Concerts and live concerts were arguably the hardest hit. Lack of insurance for the future of entertainment is an ongoing issue that the government, many argue, has not addressed due to the pandemic.
For more than a year, the musicians of this city have found themselves with an unknown fate. Many have had to find new ways to make their music heard. The only option for most groups was to host performances online. This has not benefited everyone, especially independent musicians who rely on an audience to express themselves fully. The technical details of switching to an online platform are a struggle for those who are not equipped with professional equipment.
Josh O'Kane is the lead singer of Derry Dirty Faces. The two-part outfit is called a "rant-hop" group. Bassist Lorcan Hamilton, or "King Crabit" as Josh calls it, came up with the idea for a duo five years ago. In recent years, the group has gained strong popularity in the city. Dirty Faces sounds both raw and original. Cynical lyrics and groovy basslines sound true to the Derry scene.
Dirty Faces (artwork by Diabhal666)
"I started playing in 2014 in a band called Monday Club, named after a faction of the Conservative Party backbenchers in the '80s – I think Maggie was a member," Josh said.
"We played a few gigs, including a BOTB at the end of the big Bound for Boston. This band didn't last long, then Lorcan approached me in 2016 with a new band idea and I was everywhere. After a few shows under the name Hush, we changed it to Dirty Faces. I've played semi-regularly in the city since, until the Covid restrictions went into effect. We had also planned a concert for St. Patrick's Day last year, but had to withdraw due to public opinion on the responsibility of performing a concert during a pandemic at that time. "
The group traveled across Ireland performing at music festivals in places like Dundalk, Aranmore Island and Roscommon. Music has always been a part of Josh's life from a young age. He says his family was influential in his love for music.
"My dad had a tape of the U2 album 'All That You Can't Leave Behind' which I played on repeat on any car race – I was obsessed," he said. . "I learned all the song lyrics from the booklet in the case. He also had an Undertones tape, but every song was recorded on the radio so I could hear all those DJs talking over half the songs. I thought that was part of the songs and that's why I love and include voiceovers and samples in the intros of our songs. U2 would have been my biggest and first influence, especially in terms of writing Bono songs. My friend also made me listen to the Rolling Stones, so between Mick Jagger and Bono, I knew I wanted to be a leader.
Dirty Faces (Photo by SJD Photography)
In addition to writing rap lyrics on socio-economic issues, corruption, politics and Buckfast, Josh studied politics at the University of Sussex in Brighton. Like many students who were studying during the pandemic, Josh returned home to Derry. Containment measures closed his university as well as his workplace. Josh thinks musicians need to become more united. He believes that artists should be considered part-time staff and be included in the leave.
"This is the only aspect of the hospitality industry that was overlooked during a leave program." He said. "If a bar or restaurant is closed, then the musicians they play every week have lost their income. It's not something bar owners fought for because musicians are not considered staff. They are independent or independent.
Derry has always been a mecca for music and a breeding ground for raw talent. Due to a lack of venues, the musicians of this city continued their talent by performing regularly in local bars. For bands like Dirty Faces, performing in front of audiences in bars across the country was their step into the music industry. Josh thinks the government has left the musicians behind.
"Live musicians who have a regular seat, which can be traced back over the past year or so, should be considered part-time staff and be included in the leave," he said. "There should be a system in place where a band can track their concerts, activities and festival revenues, submit it to the government and charge 80% of that amount on leave like everyone else. But there is no intermediary or hierarchical manager to facilitate this system. We are too disorganized. It works both ways.
Questions about the future of performing arts are still present. While the venues are still not open and the bars are yet to host bands, Josh believes musicians should keep writing and become more active.
"The only advice I would give is to make contacts early and use all the resources and opportunities available. Also, make social media active and lively as it is the way to go in this industry in my opinion. And don't be afraid to be political or outspoken – I miss the same old watered-down and vague songwriting style.