Local songwriters release new music | News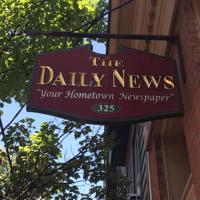 A pair of local songwriters have been busy for the past few months, putting together two new holiday songs for broadcast on YouTube. Bill Dann and Jack Servello have worked together for years, combining their lyric writing (Dann) and music writing and performing (Servello) talents to record original holiday songs, jingles and songs that tell stories about the local community.
The duo recorded a song earlier this year inspired by Gretta Czap, a local DJ who died in May. Czap was known as "Red with Records" and was well known to those who spent carefree summer evenings years ago at the Dairy Dip in Tyrone.
Dann said the song "The Dairy Dip" was covered by some local radio stations and aired on WTRN. "We were very happy," said Dann.
Now, just in time for the holiday season, two new original Christmas songs are available on YouTube: "Christmas Bells Go Jingle Jangle" and "Christmas Cat-astrophe".
Christmas Bells Go Jingle Jangle is a Christmas love song, Dann said, and was written based on some of the songs from The Archies. It's a nostalgic song, Dann said, and is one of his favorites of all of their holiday creations.
"It needs to be picked up by someone more eminent, in my opinion," Dann added.
Some of the lyrics are, "The Christmas bells are ringing to the beat of my heart, together we make music and our love can start it. … The sweetest sound will be when our wedding bells start ringing.
It's "a happy melody that touches me, makes me want to sing", in the words of the song.
The second new Christmas play was written with cat lovers in mind, "Christmas Cat-astrophe" is a whimsical tune that anyone who had a cat on Christmas can certainly relate to.
Dann said: "We were inspired by our own cats. They get into everything during the holidays.
Both songs with videos can be found on YouTube by searching for the song name and Dann / Servello.
Dann and Servello plan to take part in Tyrone's Christmas Parade on Saturday, December 4 at 11 a.m. a song they wrote in 2018 for Altoona's 150th birthday. They will also be offering music on December 18 at 7 p.m. at the Church of the Good Shepherd in Tyrone.
Dann has recovered from an infection in recent months, but still has musical inspiration. He said, "I'm always working on creative things. I still have this take. Music is a very good remedy for your ailments. I still have inspirations for what I think are great songs.
Readers missed his column on Saturdays in The herald of the day, "Hollow Echoes", which he hopes to return to soon.
For now, Dann is grateful to have recovered. "I count my blessings this holiday season," he said.