Free concert, songwriting workshop in Jefferson scheduled for Saturday | New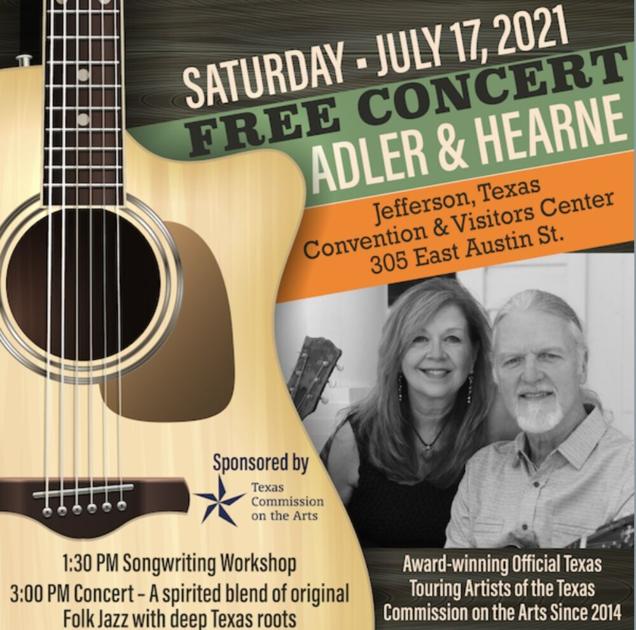 JEFFERSON – Interested musicians, singers and songwriters will have the chance to participate in a free songwriting workshop Saturday in downtown Jefferson and continue the experience with a free concert.
Sponsored by the Texas Commission on the Arts, award-winning songwriters Lynn Adler and Lindy Hearne are on a nationwide tour to perform jazz and folk tunes for guests and host a free songwriting workshop.
The concert, titled "Texas Folk," will take place Saturday at 3 pm at the Jefferson Transportation Center, located at 305 East Austin Street in downtown Jefferson.
A free songwriting workshop with the duo will be held Saturday at 1:30 p.m. at the same location, according to the Marion County Chamber of Commerce.
The House also announced a Friday night karaoke party today and live music Saturday at Jefferson Auntie Skinner's Riverboat Club and Restaurant. Karaoke kicks off at 8 p.m. tonight and live music kicks off at 9 p.m. Saturday with special guest Colton Hagler. Aunt Skinner's Riverboat Club is located at 107 West Austin Street in Jefferson.
The music will continue at McGarity's Saloon and Restaurant in Jefferson with Amelia Blake performing from 6:30 p.m. to 9:30 p.m. on Saturday. The restaurant kitchen closes at 10:30 p.m. and children 12 and under always eat free. McGarity's Saloon is located at 108 West Dallas Street in Jefferson.