Fayetteville Songwriters Featured at WNP's 33rd Anniversary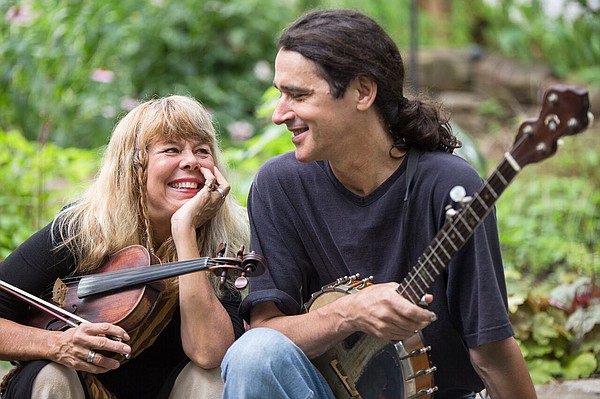 Fayetteville-winning songwriter-storytellers Still on the Hill will be the featured performers at Wednesday Night Poetry's 33rd anniversary at Kollective Coffee + Tea, 110 Central Ave.
Still on the Hill are a national and international touring band from Arkansas who have been described as "ambassadors of the Ozarks" for the work they do to preserve a rich culture that is rapidly disappearing, according to a press release.
Fifth-generation Arkansan native Kelly Mulhollan and "San Francisco flower girl" Donna Mulhollan are "deeply invested in the land and nature of the Ozarks, writing songs that showcase the beauty of the natural state, while creatively urging listeners to protect it, according to the statement.
They embellish their songs with a host of unique instruments from the hills they inhabit. The Northwest Arkansas area placed them in the Hall of Fame for "Best Folk Band" in the Ozarks and the mayor of Fayetteville proclaimed December 20 "Still on the Hill Day" for all the work the duo made in community service.
"We've been partners for 15 years, legally married seven years ago. We have a 31-year-old son named Taylor and a wonderful daughter-in-law named Arden, and their three dogs – our little puppies. They also live nearby." , the couple said in the statement.
"We have 13 CDs of all original songs. Our specialty is writing songs about the people and places of the Ozarks. We both live music and have been touring together for 25 years from coast to coast. "other and in Europe. The pandemic has slowed our travels and our performance has dropped significantly, so we're thrilled to perform for Wednesday Night Poetry and celebrate their incredible 33rd anniversary," they said.
At 6, Kelly Mulhollan cut her teeth playing the ukulele and listening to Bob Dylan, Woody Guthrie and Pete Seeger. Now, when he plays guitar, banjo, mandolin, harmonica, ukulele, or double bass, you can hear all of these influences—along with his strong Ozark roots—come together to create a unique sound. at Still on the Hill, the release said.
Donna Mulhollan learned the fiddle in the kitchen with her dad, who played guitar and sang old Hank Williams and Bob Wills songs. For 35 years, she toured the country playing with various country-western bands and even took part in a big show in Las Vegas. When she was 18, she met an old luthier named Denton Boze who lived in a tar paper cabin in the woods of Arkansas. She wrote her first song about him, opening a floodgate of songs, many of them about the people and places of the Ozarks. His instrumental palette includes several unique Ozark-made violins, a mandolin, musical saw, scrub board, ukulele, guitar, mule jaw and Ozark bow, according to the release.
"Our music/poetry has one foot in traditional music and the other in outputting higgle dee piggle dee. We both enjoy reading indigenous and ethnic words. Sami poet Nils Alsak Valkeapaa is one of our favorites and we will perform one of his poems we put to music we both think that songwriting is a kind of poetry set to music at least for us it is because we both love poetry and songwriting. None of us try to follow trends or popular culture with our writing, we let the muse lead us wherever she wants," they said.
"We love the legacy of WNP…we are part of a long-running Open Mic Peace and Justice that we started 18 years ago as part of the Omni Center. We love being part of groups that have a long lifespan. Bud Kenny and his I love Ginny reached out to us years ago to be part of WNP and we enjoyed it so much. We're always happy to come back," they said.
This is the fourth time they will be featured on Wednesday Night Poetry.
"If you've never seen Still on the Hill perform, you haven't truly experienced the spirit of the Ozarks. They are incredibly talented instrumentalists and exciting storytellers, and I'm so thrilled to have them returning to WNP to help us celebrate such a significant anniversary," WNP host Kai Coggin said in the statement.
"They introduced us virtually for our 32nd anniversary, recording a video for us on Facebook while we were all still immersed in the February 2021 pandemic. I thought it was only fitting to welcome them back LIVE and in person to really strut their stuff this year. Come celebrate with us. It's going to be such a special (and safe) night," Coggin said.
Masks are mandatory for entry and for the duration of the indoor event. The regular open mic session for all poets, musicians, storytellers will begin at 6:30 p.m. Wednesday. Still on the Hill will begin its feature at 7:15 p.m., followed by another round of open mics. All are welcome and admission is free and open to all ages.
This week marks 1,723 consecutive Wednesdays of open-mic poetry in downtown Hot Springs since Feb. 1, 1989. in a mission to spread arts awareness in our local community," a press release said.
E-mail [email protected] for more information.