Colin Cutler's songwriters in the round | News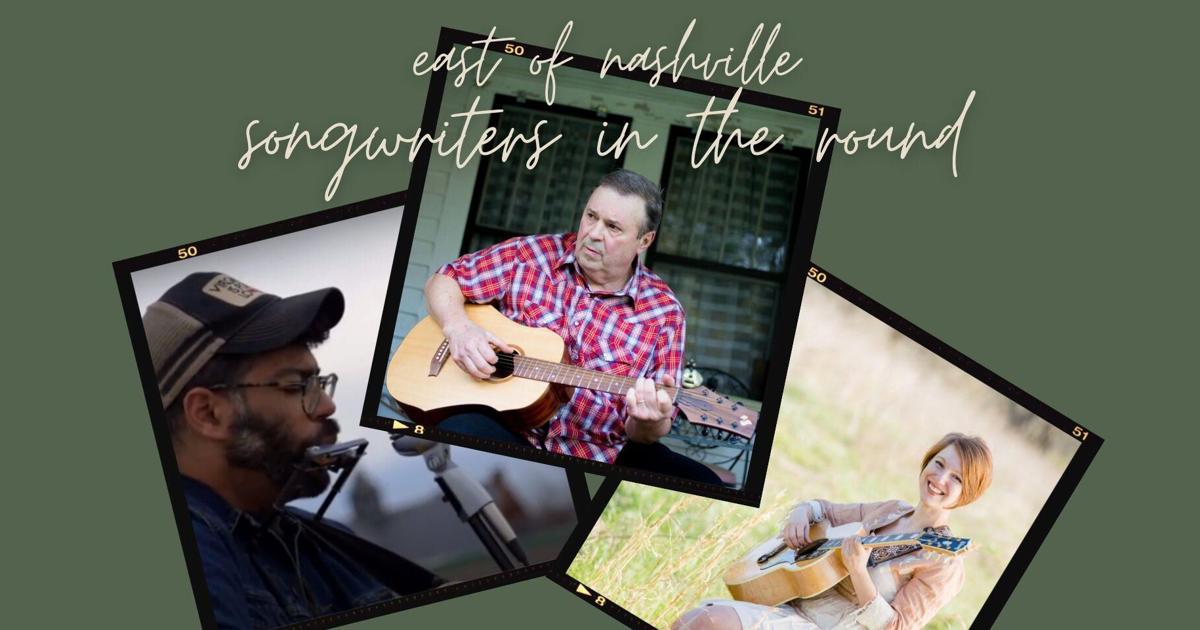 Hello, Greenboro.
Seven years ago, while at UNC-G, I started a songwriter showcase on Tate Street, which later moved to Gibb's Hundred Brewing – the idea was to showcase the creative songwriters here in the Triad area. YES! Weekly was also kind enough to sponsor this project.
The Army took me overseas in 2016, and I stayed in Europe for a few years afterward, studying in England and teaching on a Fulbright in Romania.
The pandemic brought me back to North Carolina, and eventually to Greensboro in September 2020. Part of the reason I came back here was the wealth of fantastic fellow songwriters and musicians here in this area, and I was welcomed with open arms.
My album 2021, Hot Pepper Jam, was a throwback to the old-time/bluegrass clawhammer-banjo sound I started out with, and it was recorded in Greensboro with friends from Black Rabbit Audio, the UNCG Oldtime Ensemble and the Piedmont Oldtime Society. Since then it's played on public radio here in North Carolina and Virginia, as well as WUAG, WQFS and WKNC, and taken me to the stages of the NC Folk Festival, Fiddle and Bow's Art and the Arboretum, and the Martha Bassett Show; this year I will be performing with the Greensboro Bound Literary Festival, the Piedmont Blues Preservation Society and the Antlers and Acorns Songwriters' Festival in Boone. And, of course, tons of breweries and other venues in the area.
And there is another album in preparation: I extend the one of 2018 Peacock Feathers EP into a full album of songs based on short stories by Flannery O'Connor, with their oblique view of the world of a South in transition.
Songwriting and storytelling have always been important to me, and I do my best to combine them in my music. I also want this showcase to be an opportunity to bring some of the best songwriters I've met in the region together on stage to share them with you.
They span a multitude of genres, experiences and perspectives, from David Childers' acoustic folk-rock to SunQueen Kelcey's R&B, Aaron Pants' electric rock and Emanuel's electric violin funk and blues. Winter. My goal for this series is to feature a diverse mix of locally, regionally and nationally acclaimed songwriters sharing their songs, stories and ideas. Each show, to be held at the Crown at the Carolina Theater, will feature a few Triad performers and at least one traveling performer, including some from neighboring states. Come and welcome them warmly and listen to what they have to sing!
—Colin Cutler
Crossing borders, connecting worlds
Billie Feather is a multi-instrumentalist and songwriter who divides her time between Durham and Winston-Salem, with regular trips to her family farm in Johnstown, Pennsylvania. Her approach to music is as diverse as the instruments she plays – guitar, bass, banjo, mandolin and ukulele. She tours with bands, writes music for a folk band and a punk band, helps organize music festivals, is a luthier and guitar technician, has two undergraduate degrees in guitar and jazz and has just completed her master's degree from UNC School of the Arts in guitar. , with a certificate in recording technology.
His early years were spent moving around the country as his father worked in the thriving manufactured home business, until they moved to North Carolina in the mid-1990s when he took a general management position in a manufacturing plant. Her parents bought her a toy keyboard and promised to pay for lessons if she practiced. She did not practice.
When Feather was 11, she wanted a guitar and was "mowing all the lawns in the neighborhood" to earn money for one – she spent the first year learning on her own until her parents agreed to take her lessons. Local jams and gigs shaped his sense of music. "Dad would drag me to anything free in the area and quiz me about the harmonies on my Beach Boys tape." Inspired by the music around her and the jams in the mountains, she eventually started writing songs when "I couldn't find music for the songs I wanted to play".
Eventually, she began taking classes at the Community Musical School at Catawba Community College, then set her sights on UNC School of the Arts. She did her undergrad there and spent the next 10 years "running with bands." Later, she went to North Carolina Central for a second degree in jazz, and this year completed her graduate degree in guitar, with a certificate in sound engineering from UNCSA.
His musical background is vast. After playing with Bo Stevens, John Howie and the Sweethearts, the Holland Brothers and Charles Latham, she now plays with Hank Patti and the Current (she wrote two of the songs on their upcoming album "Letters"), leads his folk project, Billie Feather and the Hallway Waltz, and a punk band, the P-90s. All three have albums coming out in the next few months.
Feather is a study in balance and crossing boundaries. "For a long time, I had two sides of my musical self: acoustic musician and classical musician. And I had the rock band, where I was shouting and swearing and talking politics. But all these worlds are colliding now.
His thoughts are similar for academia. "It got me thinking about the purpose of college, as I dealt with high school, undergraduate and graduate students, and seeing everyone's hopes and dreams at different stages. I would really like to empower artists to enter the art world with more open eyes so that they are not exploited. »
Some say the world was made for fun and frolic
In my mind, David Childers is what would happen if Doc Watson played rock and roll or Bruce Springsteen played folk. When I first heard him, I thought of him as a folk artist, rooted in lyrical storytelling. When I saw him with his band, the Serpents, it had all that, plus the energy and attitude of a rock show.
"I'm very lucky to be playing music in a way that isn't stale for me," he said. This is partly due to its combination of solo, duo and group shows, but there is also the wide range of venues. He plays regularly at breweries around the state, but also opened for the Avett Brothers at Greensboro Coliseum in May and played Merlefest last month. Either way, he says, "we felt like it was right where we belonged. Just like when you play Free Range Brewing or Foothills or Little Brother.
Regardless of the venue, he believes in providing the best show possible. "I've done a lot of records, I've played stuff on the radio, but it's live for me, seeing people smile and bring out the best in themselves." Although he lives in Mt. Holly, he has deep ties to Greensboro. Watson has a Masters in Creative Writing from UNCG and lived here for years, rising in the music business with Greensboro stalwarts such as Bruce Piephoff.
"I was lucky to grow up in a time when a lot of good music was being produced and discovered – Dean Martin, Johnny Cash, Chuck Berry, John Prine. My mother and a relative from Colorado showed me a lot of good music, and Bob Dylan was also the real kick in my pants.His music, from the ageless acoustic meditation of "fat dollar"on the rocker"Camp Latta Shuffle», displays the fruit of all these roots.