After gaining millions of followers for his fun TikToks, Parker James takes music seriously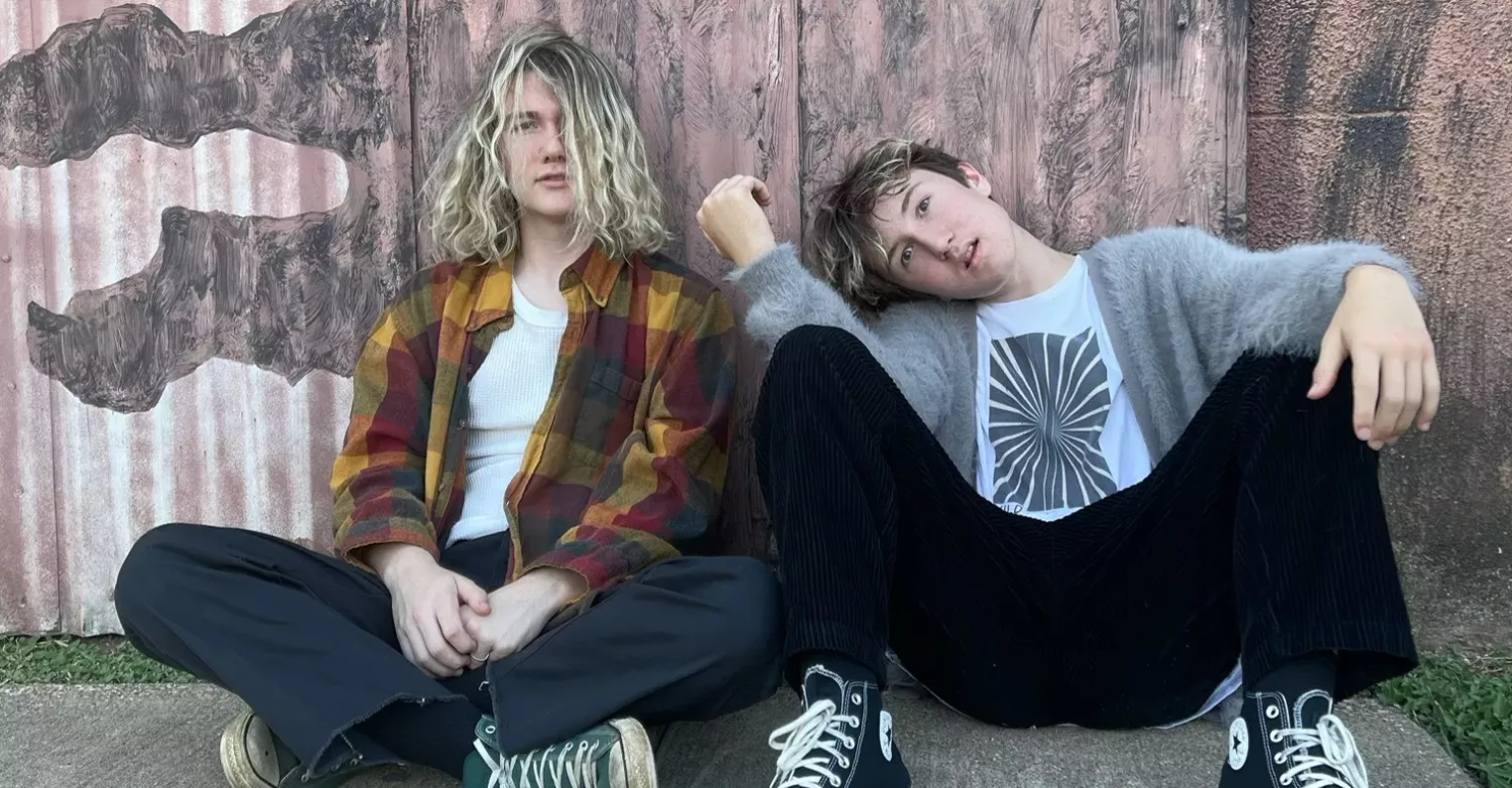 Mansfield-via-California TikTok star Parker James, 20, and his brother Caden Shea, 15, sit in their North Texas apartment surrounded by posters of Nirvana, Nine Inch Nails and Cage the Elephant, discussing their new group Olive Vox, whose debut single "Bury Me Low" is out now.
"I don't know, I really like olives," James says of the name.
The song is a smooth groove machine with a rock'n'roll tune, evoking the gloriously muddy grunge psychedelia of Screaming Trees, Temple of the Dog and Stone Temple Pilots. Parker's voice resonates like a young David Gilmour "standing by the Nile" in 1969, while Caden's guitars purr with the finesse of a newly renovated muscle car.
"We originally named the Hoof band after Caden's fuzz pedal," Parker explains. "But we found out that there were other bands with that name, and they're all metal bands, so I told Caden that I was going to start thinking of a name. I went to my room and started eating olives, and I was like "Olive, huh, that's pretty cool". And the studio talkback mic says "Vox". I told Caden it should be 'Olive Vox' and he said 'That's a stupid name' but I said, give him time, it's going well.
Caden finally warmed up to the name. "It makes sense now. I just don't like olives, "he says.
James laughs and says, "Hey, I eat olives all the time. If there is a brand with olives I will love it because I am going to be able to eat a bunch of olives.


One can imagine a full-page magazine ad for the duo's new album every time they go out with James eating olives from a jar while Caden just stares at him. Make it happen, Don Draper.
Parker James first rose to prominence on TikTok through various comedy videos involving his character StEvEn, eventually amassing over 8.1 million followers on the platform. While his comedic origins are largely spontaneous, James says his music is something he tends to plan.
"I like to take the time to make sure everything is perfect lyrically," he says. "There are lyrics I come back to and I'm like, 'Why didn't I word this differently?' but everything is much more planned. Because my [TikTok] the videos are super spontaneous and not thought out at all. My words are thought out, told and detailed. "


Caden, on the other hand, is not a planner.


"I'm more spontaneous, I just write things on the spot," he says. "I plan things out too, but when I go into the studio things turn out completely different from what I thought they would sound."
The brothers grew up in Orange County, California and moved to North Texas when James was 11 and Caden was five because of their father's job.
"I didn't have electronics growing up, so I just had this imagination where I was running around in the background, pretending to play with guns and doing these fake wars with imaginary people," James says.
A childhood without electronic distraction, supported by a vivid imagination, is a rare event in the 21st century. After a brief moment of introspection, Caden intervenes with a rebuttal and a chuckle.
"I was boring," he says. "I just followed my parents wherever they went and played on my phone. "
Although the brothers grew up loving DFW, there is still at least part of Orange County that James carries with him.
"I'm a huge Angels fan, I love watching baseball," he said. "I went to Globe Life Field to see the Rangers play against the Angels, and I didn't want it to be obvious that I was going for the Angels and wearing angel clothes, so I was only wearing red, but the angels won in the end, so I was silently saying "Yes!"
The duo recorded their first track at the Echo Lab with producer Matt Pence. Rather than dabbling in pop or hip-hop music like many of their peers at TikTok, the Olive Vox brothers are firmly committed to making rock 'n' roll music.
"There has been a giant rock resurgence, if you haven't noticed it," says James. "On TikTok, the Deftones started coming back as 'sounds.' Especially they have that shoegazy quality. Not to mention that we grew up in grunge, bands like Nirvana, Soundgarden, Smashing Pumpkins, Alice in Chains.
Although the brothers indulge in a constant diet of classics, they also follow many contemporary artists.
"I love Twenty One Pilots," says James. "When I heard 'Trees' I was like 'Oh my god I need to scream like this guy' and I got really involved with Tyler Joseph as a lyricist and crier. The depth in which he going playing is insane, it makes everyone in the audience feel involved. "
"Cage The Elephant is also amazing live," adds Caden. "There were flames and Matt Schultz rode front to back to the back wall. He's a wild type.
"There are a lot of creators who make music and throw it out there and start making videos again… I don't want to be seen as" Parker James, the creator of TikTok-who-has-also-of-la -music- but-mainly-videos. ' I want them to be worlds apart. "- Parker James

Tweet this
"Oh yeah, he's definitely an inspiration for stage presence," adds James.
Speaking with the brothers, one can feel a real passion for music. Clearly that's their primary focus, not just as a side project of Parker's gig on TikTok.
"There are a lot of creators who make music and launch it and start making videos again," says James. "I don't want to be seen as 'Parker James, the creator of TikTok-who-also-has-music-but-mainly-makes-videos.' I want them to be worlds apart I want Olive Vox to be my brother and me's band, but I want it to be part of what I do You know what I mean?
"I want the two worlds to be built by each other. This is our goal, and we are not giving up on the goals. Especially Caden – once he thinks of something, he has to keep going until it is. 'he does. "
Caden agrees, giving the Max Scherzer a quick nod of approval.
As the band continue to record and release singles throughout the fall, Olive Vox plans to begin a tour with a slot at Levitation Fest in Austin on October 28 and a headlining show at Tulips in Fort Worth October 29.
Olive Vox is currently operating independently of a label, using only help from Parker's art agency, Outshine Talent.
"I never looked at my direction and asked, 'Where's my creative team? "No, Caden and I like to do it all on our own," says James. "We love independence.